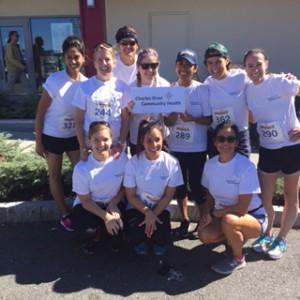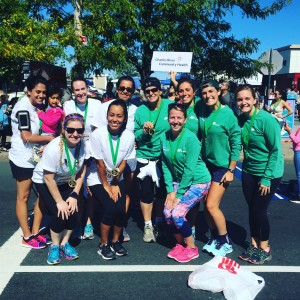 Pictured above in their pre-race photo (on left) are: (Back row

)

 Hinal Patel (Lead Pharmacist), Amy Harmon (BH), Dr. Maria Quiroga (Dental), Allie Wheelan (Nursing), Carmen Mejia (FP), Allison Sherwood-Zolenski (NP), Abigail Milburn (Director of Nursing)                                                                                                                                            (Front row): Nicole Morerro (BH), Jenna Jacobs (P&W Navigator), Magi Escalante (Nursing)
A team of staff from Charles River Community Health joined runners and walkers once again from across the Commonwealth to join family and friends of the late Boston City Councilor Brian Honan for the 13th Annual Brian J. Honan 5K Road Race presented by New Balance on Sunday, September 25th at noon in Allston-Brighton. Funds raised from the event benefit scholarships for the Allston Board of Trade and the Brighton Board of Trade. The race also benefits the Brian J. Honan Charitable Fund which fosters local and national programs that support education, recreation, housing and healthcare.
Brian J. Honan served the Allston-Brighton community for more than seven years as District City Councilor and for his whole life as an advocate for Allston-Brighton and the people of the City of Boston.  We are so proud to have had our CRCH staff's participation in such a great event in memory of Brian J. Honan.